reviewed by Erik Sedore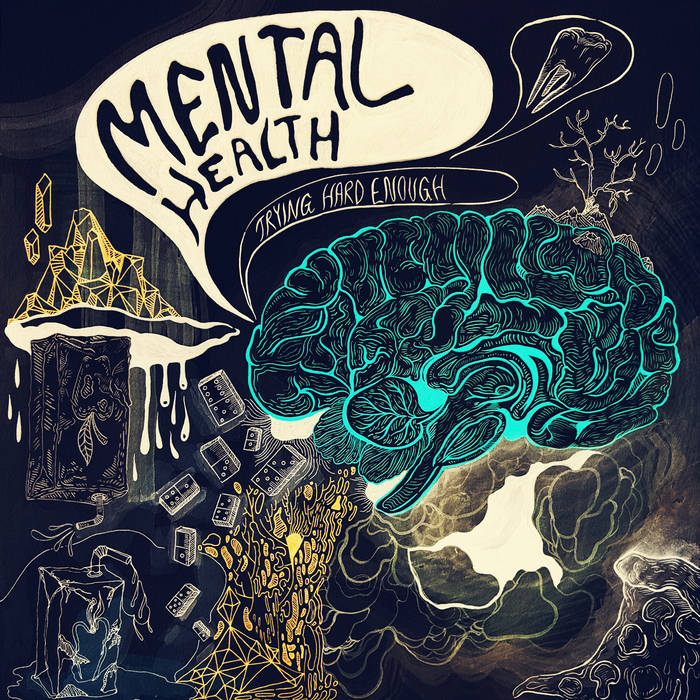 I've read that everyone has a script in their minds, a rote set of beliefs that the brain repeats back to itself over and over. When this internal monologue turns negative, it reinforces and grows itself over time, until it's like there's some other person living inside you, endlessly tormenting you with things that aren't true. A lot of Trying Hard Enough by Vancouver's Mental Health feels like a pushing back against that oppressive voice. 
Right off the bat it's "drop dead, you're in my head" – the opening statement on "Stupid Mind". It's a broad slab of indie-rock, with a dollop of wonked out guitar solos to top it off. The lead guitar is the driver of a lot of this music, and most songs are built around taut, elastic riffs. The riff on "Strike A Match" revs up and takes off, drawing you into its refrain of "it's nice to know you're not the only one, but when it's everyone, it's hopeless…" 
The record finds some slower and more pensive moments too, and these sometimes serve singer Nicholas Russell's craggy voice better. "Cherry Tree" is a reassuring poem about taking a deep breath and trying not to get too overwhelmed: "I promise to try not to care about everything." And the sweetly sung and elegiac "If You Don't Mind" is downright inspirational, a song for a time when you need to cut you losses and do what's right for you.
The whole album overall has an impressive commitment to its theme, and could be good medicine for you if you're feeling stuck, and could use a nudge to go a little off-script.
Top Tracks: "Stupid Mind"; "If You Don't Mind"
Rating: Proud Hoot (Really Good)