reviewed by Erik Sedore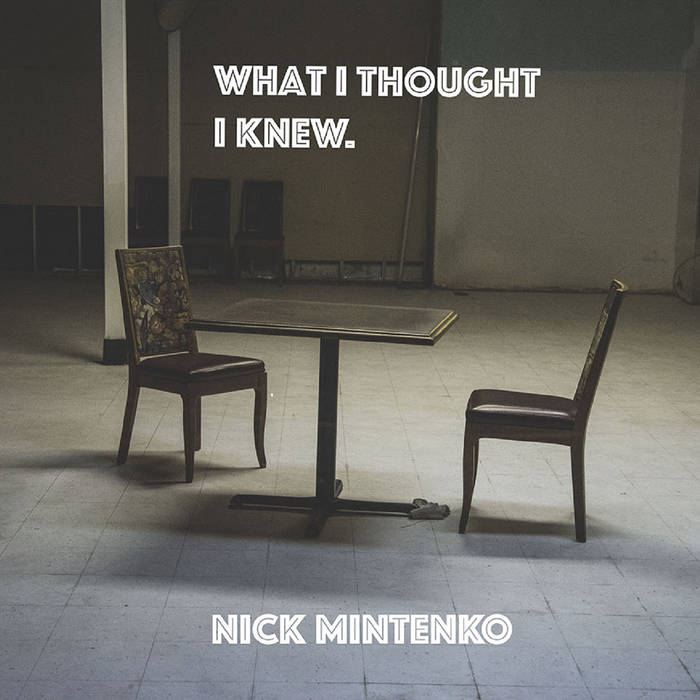 I'm often glad I grew up in the last era before the advent of social media, and its infinite archiving of digital images and comments. Everyone's always gone through a time when they're young and think they know everything, but at least mine was largely undocumented and unbroadcasted. This is what I was thinking about as I listened to What I Thought I Knew by Nick Mintenko, which is run through by themes of self realization and maturity, and sounds like it comes from another time.
Nick Mintenko works with a full band here, and each tune is smooth harmonious jazz-rock jam. The album opens on a date night, and Nick sings that he's "playing all my romantic selections for you", while weaving some romantic music of his own. The song has a well executed chorus with many voices joining in, and leaves the question open of where this night will go from here.
"Run" is an ominous song that takes it time building up some drama, as we run away from some nameless demon. It's one of the rockier numbers and benefits from some excellent electric piano in the outro.
The most memorable song is "Ain't Got Nothing". A reflective song built around a simple catchy guitar riff, it opens with Nick in front of the mirror "counting my cracks for the thousandth time". It's a good song for those times when, after blanking on something to say at a critical time, you think of the perfect witticism the next morning in the bathroom mirror.
"As Bright As" is addressed directly to the older generation, or perhaps even an older self. It's a reckoning with the disillusionment that comes with age. "You met all our heroes, were they happy?" It then transitions elegantly into the next track "Fates Design", which is introduced over a nostalgic vinyl crackle and an affirmation to "Hold onto your heart, young man", no matter what fate has in store for you.
The end of the album takes another little dark turn on "Taken A Life", but it feels a little lightweight, the splurts of wah guitar don't really go with the implied violence of the lyrics. In the end, we get a loving send-off in the title track, and we feel we learned a thing or two about letting go of the lies we tell ourselves about what we think we know.
Nick Mintenko will have his album release show at the Upstairs Cabaret in Victoria on March 16th.
Top Track: "Ain't Got Nothing"
Rating: Strong Hoot (Good)